When refrigeration demands reach their limits, Fulltech Electric`s AC fans are the key to efficient air compressor cooling!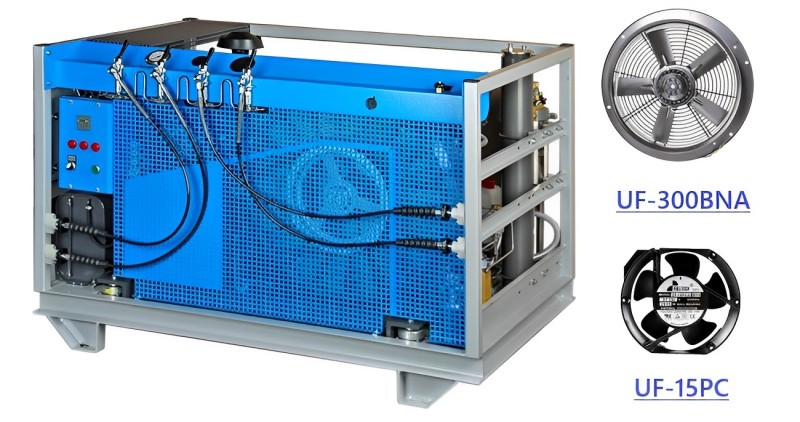 Air compressors play an indispensable role in various industrial sectors and are one of the core pieces of equipment in modern manufacturing and production processes. These machines work by drawing in atmospheric air and compressing it, then using the high-pressure air for various applications, including but not limited to powering industrial machinery, operating pneumatic tools, and supplying gas to production equipment. Furthermore, air compressors are also widely used in the braking systems of trucks and large vehicles to ensure safe braking. They are even utilized in medical devices, such as respirators, to provide oxygen or gas mixtures for patient care.
Given the extensive use of air compressors in industrial production, they often serve as a vital component of production lines and can be considered the lifeblood of an entire factory's operations. Consequently, if an air compressor were to cease operation, it would inevitably lead to downtime for the associated production and manufacturing equipment, resulting in significant production losses and costs. In this context, the durability of air compressors becomes a crucial consideration for businesses when selecting such equipment.
When discussing the durability of air compressors, there are several factors that need to be taken into account. One of these factors is the machine's heat dissipation performance. As compressors generate a substantial amount of heat during their operation, inefficient heat dissipation can lead to overheating, which can harm efficiency, availability, and even cause overheating-related failures. Therefore, choosing the most suitable heat dissipation system and fans is essential to ensure the efficient operation and extended lifespan of air compressors.
FULLTECH offers a full range of cooling fans specifically designed to suit the different types of air compressors used in the industry. The following are recommended AC fan specs for air compressors.
(Fan specifications for large air compressors)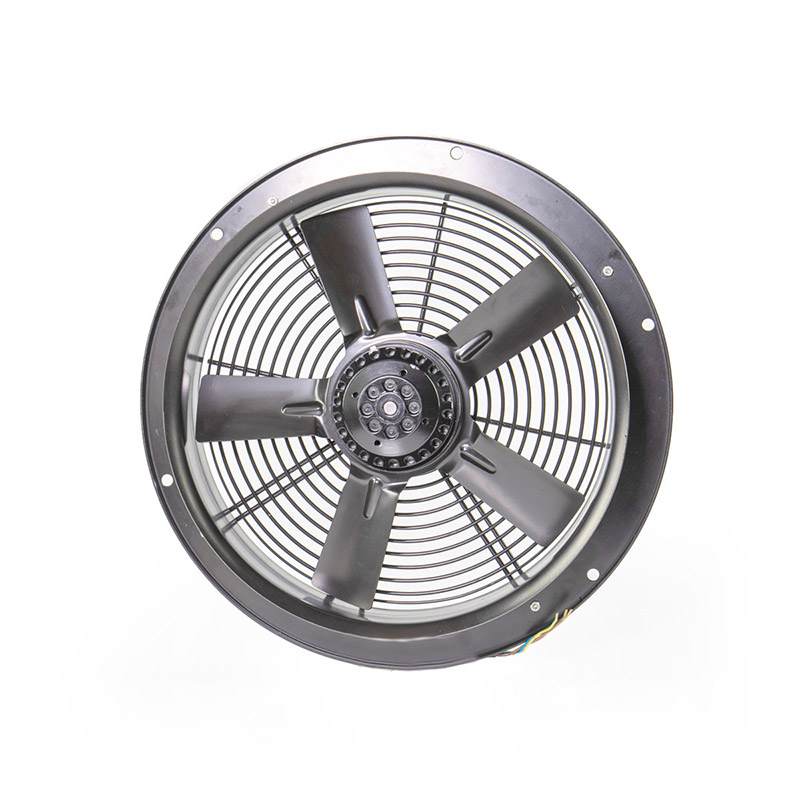 | | |
| --- | --- |
| Specification | UF-300BNA23H1C2A |
| Size | Ø398*98.3mm |
| Rated Voltage | 230V |
| Frequency | 50/60 Hz |
| Input Power | 150/200W |
| Rated Current | 0.9/1.2 A |
| Locked Current | 1.6/1.56A |
| Speed | 2650/2950 RPM |
| Maximum Air Flow | 40.6/45.7 m3/min |
| Maximum Air Flow | 1435/1615 CFM |
| Maximum Pressure | 31/29 mmH2O |
| Maximum Pressure | 1.2/1.1 InchH2O |
| Noise | 75/78 dB |
| Weights | 4.5 kg |
| Certification | UL、TUV |
(Fan specifications for small air compressors)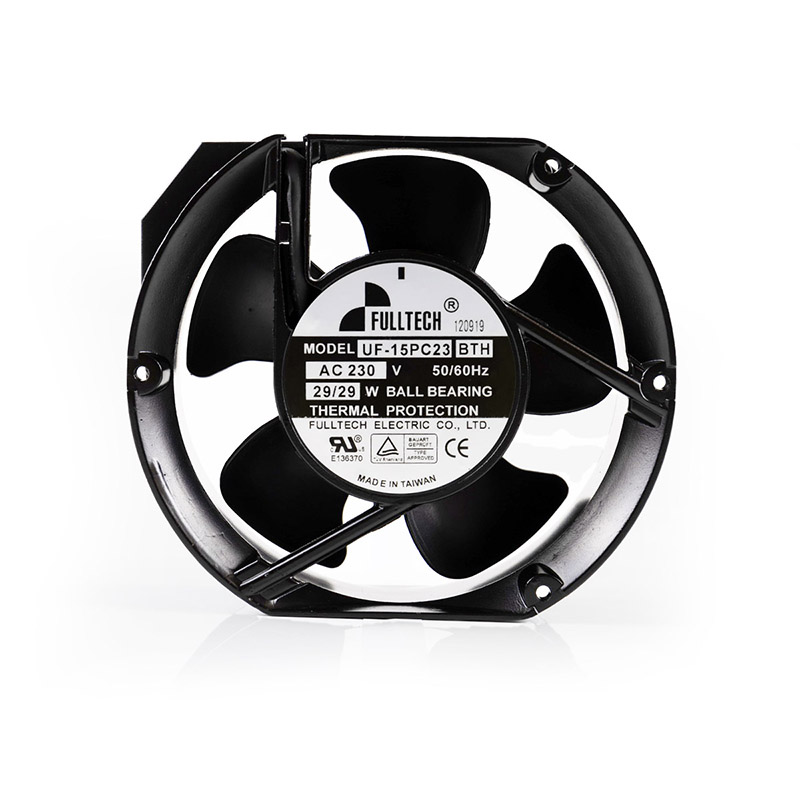 UF15PC11BTH (Terminal)

UF15PC11BWH (Lead Wire)

UF15PC23BTH (Terminal)

UF15PC23BWH (Lead Wire)

Rated Voltage
115 V
230 V
Frequency
50/60 Hz
50/60 Hz
Input Power
31/31 W
29/29 W
Rated Current
0.26/0.25 A
0.12/0.12 A
Locked Current
0.41/0.43 A
0.19/0.19 A
Speed
2850/3400 RPM
2850/3400 RPM
Maximum Air Flow
5.8/6.4 m3/min.
5.8/6.4 m3/min.
Maximum Air Flow
205/226 CFM
205/226 CFM
Maximum Pressure
16/20 mmH2O
16/20 mmH2O
Maximum Pressure
0.63/0.79 InchH2O
0.63/0.79 InchH2O
Noise
53/58 dB
53/58 dB
Weights
0.8 kg
0.8 kg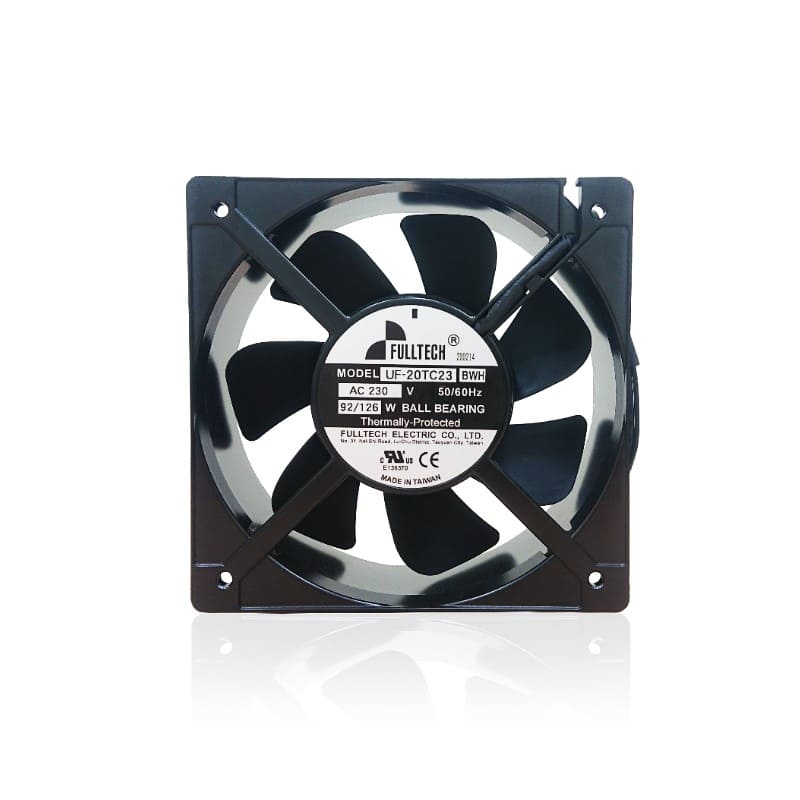 UF20TC11BTH(Terminal)

UF20TC11BWH(Lead Wire)

UF20TC23BTH(Terminal)

UF20TC23BWH(Lead Wire)

Rated Voltage
110 V
230 V
Frequency
50/60 Hz
50/60 Hz
Input Power
86/121 W
89/122 W
Rated Current
0.81/1.05 A
0.42/0.53 A
Locked Current
2.8/2.6 A
1.4/1.3 A
Speed
2850/3350 RPM
2850/3350 RPM
Maximum Air Flow
17.1/20 m³/min.
17.1/20 m³/min.
Maximum Air Flow
610/710 CFM
610/710 CFM
Maximum Pressure
29.2/36.8 mmH₂O
29.2/36.8 mmH₂O
Maximum Pressure
1.15/1.45 InchH₂O
1.15/1.45 InchH₂O
Noise
68/72 dB
68/72 dB
Weights
2.4 kg
2.4 kg

If you'd like to learn more about our products and solutions, please don't hesitate to contact us. We are committed to providing innovative technology for efficient cooling, meeting the diverse needs of equipment, and enhancing their efficiency and reliability
---