OEM / ODM

OEM / ODM
OEM orders are welcome on our products. Our experienced engineering team is capable of walking through the design stage with our customers' design. We accept buyers' labels or logos. Our quality standards are available based on customers' demand.
---
Special or custom design are welcome.
For example as follow:
Dual voltage type of 115V/230V.
Dual speed type or multiple speed type.
Special voltage type, like AC24V, 48V, 380V.
Hall sensor type.
Dual Speed / 3 Step Speed
Speed adjustment, energy saving
User can adjust the speed according to the applying environment tosave the energy. There are two types: dual speed and 3 step speedfor choice.
Application: cabinet, freezer
Dual Speed
| | | |
| --- | --- | --- |
| Dual speed | Description | Safety |
| 12A11BWHL (Dual speed) | 120x120x38mm, 110Vac | CE |
| 12B11BWHL (Dual speed) | 120x120x25mm, 110Vac | CE |
| 15P11BWHL (Dual speed) | 172x150x51mm, 110Vac | CE |
| 18JC11BWHLD (Dual speed) | 180x180x90mm, 110Vac | CE |
| 25GCA11BWHL (Dual speed) | Ø254*89mm, 110Vac | CE |
| 9029CBP12BL (Dual speed) | 420x150x130mm, 110Vac | CE |
3 Step Speed
| | | |
| --- | --- | --- |
| 3 step speed | Description | Safety |
| 200BMB23H2/M/LC2A (3 speed) | 225*225*80, 230Vac | CE |
| 250BMB23H1/M/LC2A (3 speed) | 280x280x80mm, 230Vac | CE |
| 9029CBP23AL (3 speed) | 420x150x130mm, 230Vac | CE |
| 9029CBA23AL (3 speed) | 420x150x130mm, 230Vac | CE |
| 6036CBA12AL (3 speed) | 462x100x90mm, 230Vac | CE |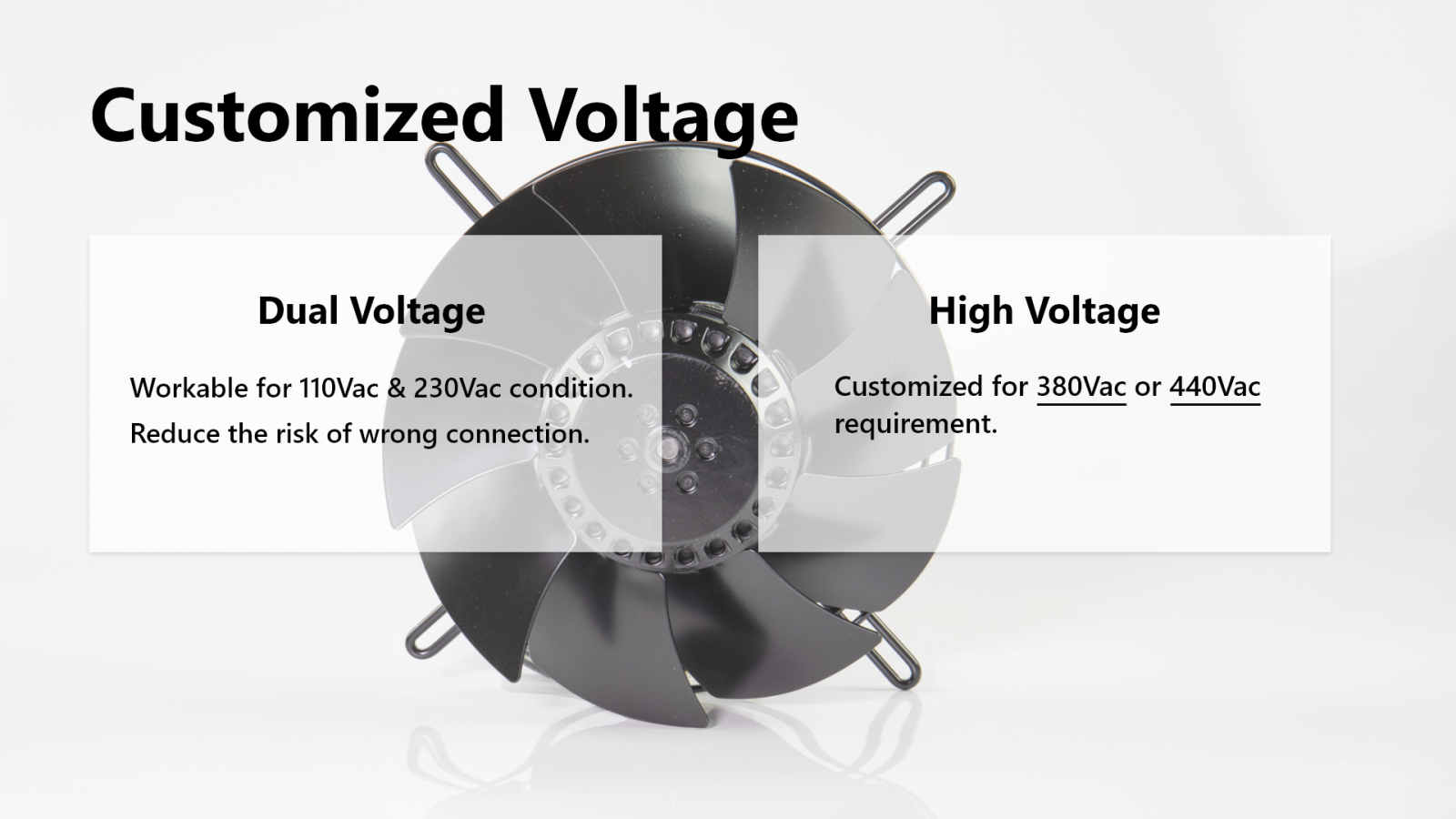 Dual Voltage
| | | |
| --- | --- | --- |
| Dual voltage | Description | Safety |
| 80A12/23BWH | 80x80x38mm, 110Vac/230Vac | UL.CUL.CE |
| 80B12/23BWH | 80x80x25mm, 110Vac/230Vac | UL.CUL.CE |
| 92B12/23BWH | 92x92x25mm, 110Vac/230Vac | UL.CUL.CE |
| 12A12/23BWH | 120x120x38mm, 110Vac/230Vac | UL.CUL.CE |
| 12B12/23BWH | 120x120x25mm, 110Vac/230Vac | UL.CUL.CE |
| 13A12/23BWH | 127x127x38mm, 110Vac/230Vac | UL.CUL.TUV.CE |
| 15AC12/23BWH | 172x150x38mm, 110Vac/230Vac | UL.CUL.TUV.CE |
| 15PC12/23BWH | 172x150x51mm, 110Vac/230Vac | UL.CUL.TUV.CE |
| 15KC12/23BWH | 172x150x55mm, 110Vac/230Vac | UL.CUL.CE |
| 15KCR12/23BWH | 172x150x55mm, 110Vac/230Vac, reverse air | UL.CUL.CE |
| 18JC12/23BWHD | 180x180x90mm, 110Vac/230Vac | UL.CUL.CE |
| 22F12/23BWH | Ø223x60mm, 110Vac/230Vac | CE |
| 25GC12/23BWH | Ø254x89mm, 110Vac/230Vac | UL.CUL.TUV.CE |
| 25GCB12/23BWH | Ø254x89mm, 110Vac/230Vac | ETL.TUV.CE |
| 25HC12/23BWH | Ø254x107mm, 110Vac/230Vac | UL.CUL.CE |
| 9029CBP12/23HL | 420x150x130, 110Vac/230Vac | CE |
| 9060CBP12/23HL | 740x150x130, 110Vac/230Vac | CE |
High Voltage
High voltage

Description

Safety

380Vac

12A38BTH

120x120x38mm

CE

15P38BWH

172x150x51mm

CE

15KM38BWHF

172x150x55mm

CE

16FA38BWHD

160x160x62mm, 3 Phase

CE

17P38BTH

Ø172*51mm

CE

18JA38BWHD

180x180x90mm, 3 Phase

CE

25GC38BTH

Ø254x89mm

CE

200BMB38H2C2A

225*225*80

CE

200BMA38H2C2A

225*225*80

CE

250BMB38H1C2A

280*280*80

CE

180APA38H2A2A

Centrifugal, Ø182.4x84.9mm, 3 Phase

CE

190APA38H2C2A

Centrifugal, Ø190x70mm

CE

225(69)APA38H1A2A

Centrifugal, Ø225x69mm, 3 Phase

CE

225(99)APA38H1A2A

Centrifugal, Ø225x99mm, 3 Phase

CE

250APA38H1A2A

Centrifugal, Ø251.5x98.1mm, 3 Phase

CE

400Vac

220APA40H2A2A

Centrifugal, Ø223x71mm, 3 Phase

CE

225(85)APA40H1A2A

Centrifugal, Ø225x85mm, 3 Phase

CE

250APA40H1A2A

Centrifugal, Ø251.5x98.1mm, 3 Phase

CE

318AAA40H2A4A

Centrifugal, Ø318x154.5mm, 3 Phase

CE

440Vac

12A44BTH

120x120x38mm

CE

15P44BTH

172x150x51mm

CE