AC cooling fan with waterproof for heat exchanger mounted outside - Fulltech Electric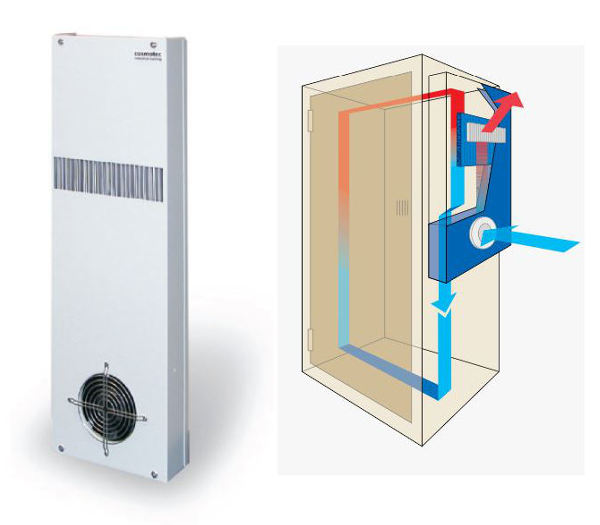 The cabinet heat exchanger is a heat exchanger designed for the heat dissipation of closed industrial panels and communication cabinets. It is mainly used to eliminate the power generation of electronic equipment ( PLC , inverter, relay, drive system, communication module) in the cabinet.
The product provides the ideal temperature and humidity operating environment for the cabinet. At the same time, the dust and moisture in the environment are isolated, and the heat exchange core is used for effective exchange to achieve temperature regulation, thereby meeting the heat dissipation requirements of the control cabinet in a closed state and avoiding The use of high winds and other high pollution problems.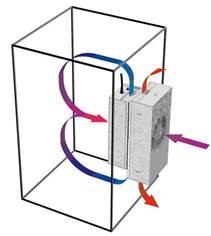 Some heat exchangers are mounted on the wall outside, and to inhale and exhale the air with the AC cooling fan running inside the enclosure. However, with exchangers mounted outside, it increases the risk of the malfunction of the machine itself. So, it is very important to choose the right AC cooling fan inside the exchanger, since it will help the exchanger to function correctly and guarantee its life cycle, and, the most important, ensure the efficiency of ventilation.
AC cooling fan with waterproof
will certainly avoid the malfunction of the exchanger caused by the rain or humidity outside.
Fulltech AC Axial fan –
UF15KM23BWHN
is a waterproof fan with stator fully sealed. It can also prevent the malfunction of the fan from humidity or dust outside. UF15KM23BWHN also passed the constant temperature and humidity test for 20℃~70℃ per cycle, with 15 cycles, 300 hours in total, which proves to our customers that UF15KM23BWHN with metal blade functions well in the outdoor and also rugged environment as well.
Fulltech, as professional AC fan manufacturer, suggests our customers to choose the AC fans with safety certification certified by 3
rd
party, such as UL, TUV Rheinland, CE and so on, to make sure the cooling fans meet the requirement of quality, life cycle, efficiency, low noise and so on.
If you are the manufacturers of heat exchangers, welcome to contact with Fulltech electronic component distributor for further information.
---